What is ergonomic kids study sets?
Ergonomic kids furniture is a rising category of furniture that promotes healthy posture, increased concentration in studying, and better comfort for the children as it is designed for them. And this isn't just a sales pitch, the results can be seen here and here, through research and endorsements from various medical practitioners.
Generally used from 3 years old to 18 years old (in general, not every child has the same body type), this new type of furniture was also said to be environmentally friendly, due to not having to constantly replace children's furniture and creating the concept of ergo-growing study set, or 儿童成长桌椅 in China and Taiwan.
But they are certainly not at the same price point as IKEA furnitures, with them easily going for several thousand ringgit for a set. So where did they come from, why are they so popular now, and does it actually make a difference?
 Where did it come from?
There's been a emerging trend when it comes to kids furniture over the past decade. Starting perhaps somewhere around the 2000s, premium adjustable children's furniture reminiscent of a futuristic look with adjustments that even adults didn't have were showing up on the market in Asia. The exact origins of starting the trend of ergo-growing children's furniture is rather unclear, but it has really taken root sometime around 2016 in China according to CBNData, a market research company that specializes in understanding China's consumer market.
CBNData's market research trend on 'healthy children table and chair'
CBNData reasons that there is an increasing focus in 'healthy children furniture' products, and that the growing income of families are starting to invest heavily in anything related to education and health for their children. It's unsure if it was a government initiative, because ergo-growing desk and chair sets have been seen in public schools as well. 
Schoolchildren at Nei Jiang using ergo-growing children's furniture.
This has led to an increase in awareness and product demands for these ergo-growing desk and chairs set. Go to any furniture expo in China, and you'll notice premium ergo-growing table and chairs set with any booth, with some of them achieving premium luxury status. Brands like Comfpro, Sihoo, Totguard might not be well known outside of China, but absolutely command the market for their durability, functionality, and design.
Comfpro exhibition in Beijing
This trend is so prevalent, if you try searching under popular Chinese shopping sites such as Sunning, Taobao, you'll notice ergo-growing desk and chair (成长桌椅) to be an actual category, along side the most sought after brands on search engines.
Why to invest ego-growing desk and chair?
So, why should you invest in thousands of ringgit in an ergo-growing desk and chair set? Our generation did not require any of these, and we still managed to study just fine!
There's no denying that, sitting cross legged hunched over the floor doing math homework is doable, but do you want to have them carry that habit forward as an adult? Malaysian children now already spend more than 8 hours in a sedentary position, and that was pre-pandemic. How many children have complained about being uncomfortable as they try to concentrate on school work from a iPad/Desktop?
Generally speaking, we would say that they can be used from 3 years old to adulthood, but it would depend on the chair more so than the table. Most ergo-growing tables should be able to reach regular table heights of 76cm and above, but eventually the adult children might prefer something more sophisticated like an ergonomic office chair if they are about to study in university and beyond. That's still a life expectancy of 15 years, while providing the best comfort possible.

Apart from research, anecdotally, our customers come to us for the following reasons
My child has been complaining about backpains while studying
My child has poor posture, will your products help?
My child has a medical condition, and the specialist has mentioned getting ergonomic furniture.
Research says that tables and chairs play a role in developing lasting sitting posture, and it's common that a habitual slouch from childhood can last well into adulthood. Common dangers to watch out for children are:
Avoid dangling feet away from the ground (Back pain)
Avoid children slouching towards the table (Neck and shoulder pain)
Avoid having them raise their elbows above/parallel to their shoulder (Shoulder pain)
When children (and adults as well) do not have proper sitting posture, they are placing immense stress upon their muscles and joints, causing cramps and pain.  Investing in a ergo-growing study set allows children to adjust to their specific comfort level, giving them a childhood's worth of freedom to be creative and study without having to worry about back pain. Because children (and adults) perform better while they're in comfort.
How to buy ergonomic kids desk and chair?
Firstly, you have to decide what is the size of table you want. Ergonomic tables are mainly working stations like an architect's drafting table, and not meant for everyday storage. If storage is something that is required, consider getting an extension for the table, or a stand alone bookshelf on the side.
Secondly, determine the features and materials you would want to have for a child proof furniture, while keeping in mind certain features that you want to clarify with the salespersons: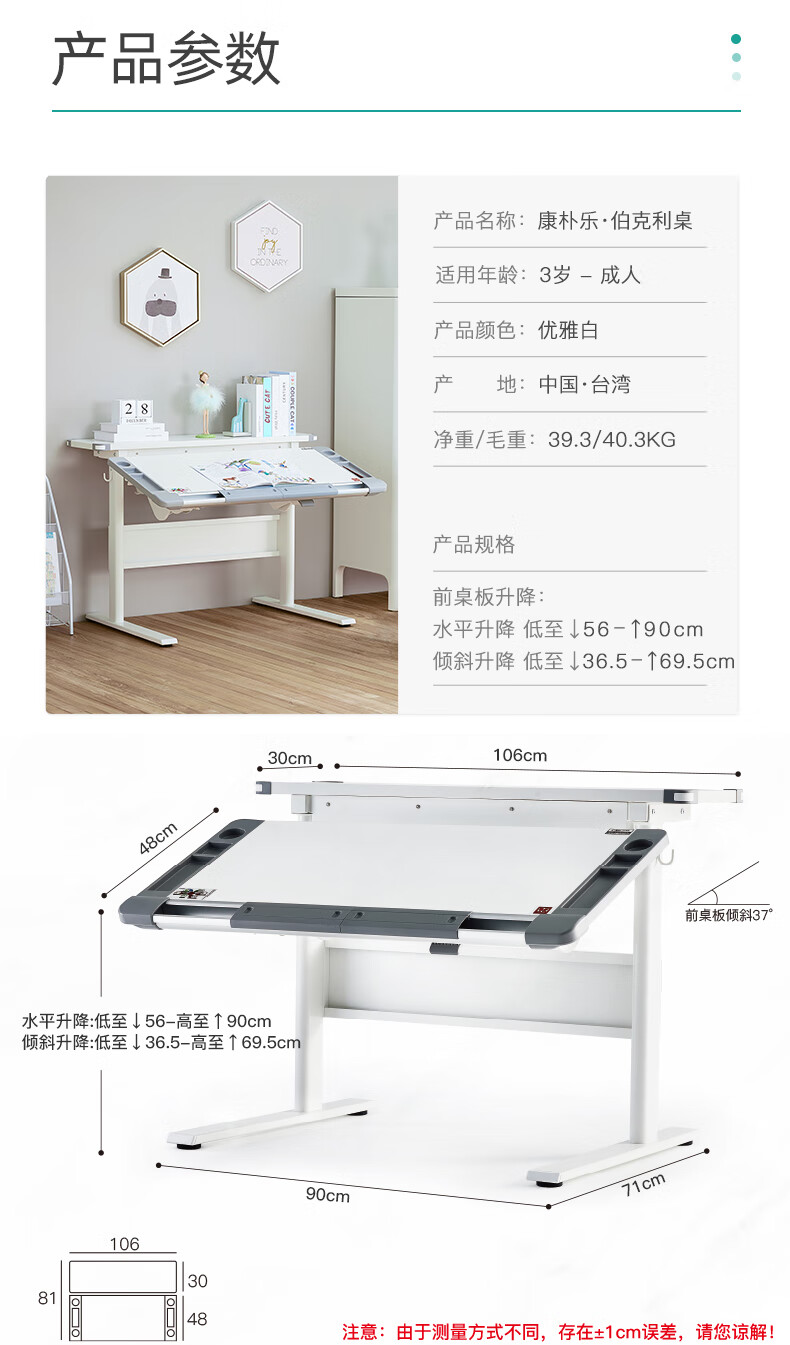 For the table:
Is there a coating to make it water resistant? Water can easily ruin table surfaces and cause the fibres to expand and weaken. Look for something that has something like Formica layered coatings. 
How difficult is it to clean the table if a child draws/colours/paints on it? Tables with coatings usually react differently to being cleaned, and we know that children can be careless and accidentally draw on the table. Best to see the salesperson demonstrate it live for you to clean it. 
What is the warranty on the mechanism to adjust it? Investing in something that is quality for the best price is tricky to discern, but one of the easiest way to find out the quality of the products is to ask for the warranty of the products. The longer, the more trust the manufacturer has in the products.
What is the material of the table made from? Steel? Plastic? Is it safe for children? Tables with wood have a chance of having high levels of formaldehyde, a type of cancer causing agent found in the woodworking process. Look for a certification from Greenguard, certifications would look something like

this

.
For the chair:
Until what height/age can the child continue to use the chair? There are many chairs that can be adjusted based on the height, but the difference between a regular office chair and an ergonomic children chair is the ability to fit the seat base for children. 
How difficult is it to clean the chair if a child spills on it? A common occurrence even with adults, try to look for a chair with a cover, and be easy to clean otherwise. 
What is the foam density of the question? This is actually one of the few question one can ask for a direct comparison between brands. Foam density is commonly asked for in the mattress industry, the higher the number the more dense it is. For chairs, a good recommended density would be around 50-60, as its the optimum density for durability and comfort.
Is there a child lock on the wheels so they cant move? Always a consideration as you dont want these chairs to be played like a car by children. Best to find a manual lock rather than an automatic lock, an automatic lock means you cant shimmy forward to sit deep inside.
Is the backrest actually ergonomic and comfortable? There are several types of backrests, such as, cushion, netting, mesh, or even plastic. This unfortunately has no real way of telling, and would require direct input from the children themselves. These chairs are made for them after all.
Are there materials used safe for children? Although most non wooden chairs wont have formaldehyde, there are other dangerous chemicals like  Benzene, Perfluorooctanoic acid (PFOA), Vinyl Acetate, etc. It's difficult to recognize all the different dangers, so its best to find a reputable general certification from US, Europe, Japan etc. C

ertifications would look something like 

this

.
Thirdly, and most importantly, does the child actually like the table and chair set? No matter the specifications, the discounts, the look, if the child ultimately does not enjoy using the study set, it will be a waste of an investment. Children value participation in decisions and collaboration, they might even refuse to use it out of spite.
Ultimately here at Ergoland we've helped thousands of customers with their purchase of ergo-growing kids study desk sets, and it's why its so important to have a conversation with the child as well. We still have customers who come back to us many years later, praising the durability of our products and lasting customer service, just read some of our reviews from Google and you'll know what to expect; quality and professional customer care services. Investing in an ergo-growing set doesn't have to be difficult, and if you have any questions about anything related do give us a call at +603 7732 7671, Whatsapp at + 6012 303 8522, or connect with us on Facebook Messenger and visit our stores in 1U or QBM!